Chris Thiagarajah, MD, FACS
Park Avenue OculoPlastic Surgeons | (303) 468.8844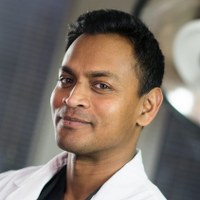 Dr. Chris Thiagarajah is a board certified oculofacial plastic surgeon. After growing up in New Jersey and attending New York University, Dr Thiagarajah attended medical school and residency in Washington D.C where he trained in the microsurgical techniques of ophthalmology. He then completed a fellowship in neuro-ophthalmology at the University of Cincinnati where he trained in orbital diseases. Following this, he completed an ASOPRS fellowship in oculofacial plastic surgery at Park Avenue Oculoplastics with Jerry Popham and Bob Kersten. It was there he mastered the techniques of blepharoplasty, eyelid procedures and ptosis repair, among others. As important, it was there he fell in love with Colorado. After practicing at Georgeotown University where he taught the ophthalmology residents in the techniques of oculofacial plastic surgery, he returned to Denver, Colorado to practice.
Dr. Thiagarajah is a member of the American College of Surgeons, American Society of Oculoplastic Surgeons and Academy of Cosmetic Surgery. He has been voted a top doctor in US News and World Report and has been a Patient's Choice award recipient from 2009 to 2015. His area of interest is blepharoplasty and other facial procedures with particular attention to how they accent and complement the eyes.
For more information, visit www.drpopham.com.